© 2018 Just Cats Veterinary Clinic Ltd
An award winning veterinary clinic devoted to feline healthcare

An award winning veterinary clinic devoted to feline healthcare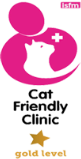 Privacy Policy
This policy (together with our Terms of Website Use) describes how we will process any personal data collected about you.
The data controller (for the purpose of the Data Protection Act 1998) is us: Just Cats Veterinary Clinic Limited, 57-59 Duke Street, Southport, PR8 5BT.
Information collection & use
No doubt you will be aware that the transmission of information over the Internet is not completely secure. However, we will try to ensure the protection of any personal data you transmit to us (albeit sent over the Internet at your own risk). Information which we may collect about you (whether as a result of your visit to our website, through correspondence, business transactions or otherwise) will be used in connection with the provision of our services. In particular, we may use information relating to you to:
Communicate with you;

Provide you with information relating to products or services which you have asked for - where you have consented to be contacted for such purposes.

Notify you about any changes to our service

Allow you to participate in interactive features of our service, when you choose to do so.

Carry out our obligations arising from any contracts entered into between you and us.
By using our website you consent to the transfer of your personal information outside of the where necessary.
IP addresses
We may collect information during your visit to our website, such as your IP address, operating system and browser type.
Disclosure of information
We may disclose your personal information to third parties:
If we are under a duty to disclose or share your personal data to comply with a legal obligation;

To enforce or apply our Terms of Website Use and other agreements;

To protect the rights, property, or safety of Just Cats Veterinary Clinic Limited, our employees, our customers, or others. This may include exchanging information with other companies and organisations for the purposes of fraud protection and credit risk reduction.

In the event that a third party claims any material posted or uploaded by you to our website constitutes a violation of their intellectual property rights or of their privacy rights.

In the case of us selling or buying any business or assets.
Links to other sites
Finally, our website may contain links to and from third party websites which will have their own privacy policies (for which we do not accept any responsibility or liability). We would always recommend that you check any third party website policies before submitting information to them.
Contacting us
Any questions, comments and requests regarding this Privacy Policy should be addressed to reception@justcats.co.uk.
Cookies
This site uses cookies to store information on your computer.
These cookies are used to make our site work effectively and are set when you submit a form or interact with the site.
We do not use cookies to collect personal information about you for the purpose of marketing or to track your Internet usage.
To control third party cookies, you can adjust your browser settings.
By using our site you accept the terms of our Privacy & Cookie Policy.